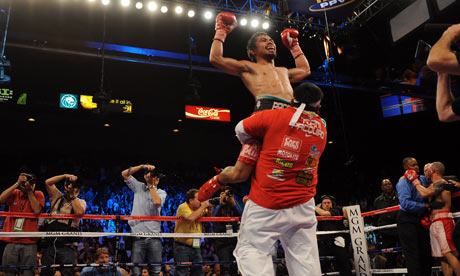 Every time Manny Pacquiao wins a fight, at least one person brings up the reality check: that Pacquiao's victory is his and his alone.  His victory doesn't lift us up from poverty, it doesn't cure corruption from Government, and once the fight is over, it's the same-old-same-old for the lot of us.  It's the jaded reaction that comes with Pacman winning every title and every match he ever did in his illustrious career: Pacquiao may be a champion, but we aren't.
There was a time that I hated Pacman so much that all the respect I can give him was an iota of grudging appreciation for his boxing skills.  Don't get me wrong: I still don't like the guy as an actor or a potential politician, but his fighting spirit and pugilistic prowess are simply undeniable.  Pacquiao, in the ring, is unstoppable.  It's just the fanaticism over Pacquiao that gets into my skin, my nerves, and my bones.  For a guy who makes his living in a boxing ring, taking punches and making them, every minute and round counting as a dollar in the purse, Pacquiao is our hero.
As a Filipino, Pacman is my champion, my ring legend, my icon.  Yet a title belt is not the difference between me and Pacman.