Nicanor Perlas = Badass
Some weeks back, I wrote a piece on Nicanor Perlas that probably didn't sit too well with his supporters and believers.  I've received some feedback from the post that probably made news in the Nick Perlas headquarters because I linked to their site.  Anyway, the ardent Perlas supporters aren't agreeing with my summary of his verbose PR.
So I decided to do what any self-respecting blogger would do: I Googled the search term "nicanor perlas," and found out just how much blogging badassery I am capable of: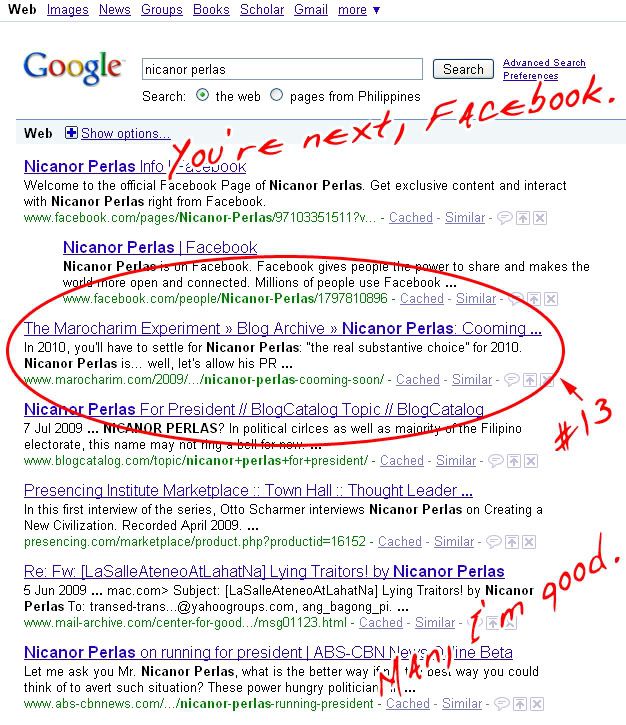 Yep, I'm number 13 on a Google search for "nicanor perlas."  I even beat ABS-CBNNews.com, and some Nick Perlas sites, on the basis of his name alone.  I'm just below – exactly below – Nick Perlas' own Facebook accounts.  On one hand, I could say that I must be damn good that I make hits without the benefit of search engine optimization, but I believe this is badassery.  I caught on by osmosis – no, wait, imbibed – Nick Perlas' badassery at the mere mention of his name.
What badassery am I talking about?  Here goes:
Alternative Nobel Prize = BADASS. People get Nobels all the time.  Methinks Jean-Paul Sartre refused to accept his Nobel Prize for Literature because the Alternative Nobel is where it's at.
Winning an election the non-traditional way = BADASS. Traditional notions of winnability are bollocks.  Badasses eat tradition and crap out victory.
The concept of social intelligence = BADASS. Damnation and vendetta upon your social constructs.  Here's a concept you'll not understand because you're not an anthroposophist.
Wikipedia article = BADASS. Nicanor Perlas is an anthroposophist on the same level as the novelist Saul Bellow and the philanthropist Albert Schweitzer.  If it's on Wikipedia, it must be true.
Analyzing, reframing, and altering = BADASS. Barack Obama is a fool for summarizing these three distinct points into a mantra of "change."  Yep, we should analyze, reframe, and alter.
Altering the political landscape without ever being a politician = BADASS. You never heard of anyone do that before, and there are so few occasions you see Nick Perlas on TV.  Like I said before, Nick Perlas is indirectly responsible for the indirect benefits we indirectly enjoy.
Whooping the cabal of the DA/Pesticide Indusrry = BADASS. Whooping a cabal is the hallmark of all badassery.  Besides, DA/Pesticide Insdusrries are worse than Left 4 Dead zombies.
The Science of the Impossible = BADASS. Science is all about possibilities.  We experiment: hypothesize, test, and conclude to resolve a reality out of a possibility.  That notion of science is so Adidas.
Don't take my word for it.  Let's sheaf through more PR:
Perlas embodies an unusual combination of expertise and skills, essential to addressing the stark challenges and incredible opportunities facing the Philippines.
Unusual combination of expertise and skills?
Stark challenges?
Incredible opportunities?
Superheroic.  Like he says himself, transforming attacks into blessings.
Confronted with every shade of fuck-yeahs like Mar Roxas padyakizing on a pedicab exhorting us to kulitize the gobyerno, or Manny Villar's giant "I'll-look-there-so-I-can-have-gravitas" billboards at StarMall, or perhaps Bayani Fernando's Photoshopped hard-hats on every single damned construction project in Metro Manila, I have to lean towards awesome… Nicanorgasms, as Rom writes.  Or perhaps just raw, unadulterated badassery that should – must – be implanted (…) in The Government come 2010.
So I went back to the Wikipedia article and found this quotable lines of phrase:
In an e-mail to his friends last week, Perlas said he would "work very hard to win" the presidency in 2010.

"That is part of my nature and who I am, that I work with total dedication and devotion to any cause that I freely commit myself to," he said.

Perlas said he would give way should he find a "more qualified" candidate.

"But so far, from my perspective, no one has appeared who can truly lead this country to a new and better future," he said.
I'm sold: Nicanor Perlas = BADASS.
Now usually I would pass off sophomoric attempts at satire as a way to present the point of view that no amount of blind faith or gratuitous declarations of awesomeness will ever convince me to think that a vote for Perlas will change the Philippines, but I had to read his articles.  I had to read his credentials.  I like to think that the one vote I'm entitled to make in 2010 will be an intelligent vote.  I read up on what I can and inform myself with the materials that I have.
Again, I just summarized what I can understand of Nicanor Perlas' PR material.