Everything Falls Into Place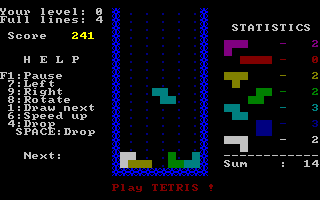 Everything falls into place.  There's always a place for all shapes and sizes of things; it doesn't matter if they're on the straight and narrow, or the crooked and confusing, there's always a place for everything.  You win some, you lose some, but you always move up a notch where everything's faster, where every line is drawn for you.  You start off with nothing, and then you end up with a high score.
June may be a time for romance (wink wink), but this year, it's the 25th anniversary of Tetris.
The gaming community is a collective not to be riled (the most gaming I do these days is Pokémon and the occasional rounds of fighting games at arcades), but it goes without saying that Tetris is a gamer's game.  First developed in 1984 by Alexey Pajitnov, Dmitri Pavlovsky, and Vadim Gerasimov, Tetris was as simple as video games can get.  All you needed was to line up a bunch of different-shaped blocks into a row, the completed rows get eliminated, and you're back in the game.  It's simple, addictive, and we're still playing the game (with the addition of frou-frou graphics and RPG elements) 25 years after it was first programmed.
You won't see avid Tetris players in computer shops anymore (thanks to all this fan worship of Warcraft III and Left 4 Dead), and you certainly won't see those 99-in-one "Brick Game" handheld Tetris machines where you play everything from speed Tetris to Tetris "racing games."  Yet I guess that even in this day and age of cool-ass graphics and Facebook game alerts (seriously, I don't wanna), there's always room for the old stuff.
Everything falls into place.  Like blocks on a Tetris game, everything just keep falling into gaps, spaces, and for those used to it, every piece will fall into a snug fit between other pieces.  Suddenly, everything vanishes, and you start over.  It may seem to be over, but it never is… stupid crooked zig-zag thing!
As long as there's a place for everything.  Happy birthday, Tetris!  I'll play you again, as soon as I get you to work on this here computer.
* – Photo from "Tetris Story" by Vadim Gerasimov, one of the three pioneer developers of the original Tetris.  Thanks to Francis Acero for the tweet.