Pacquiao Versus Merryweather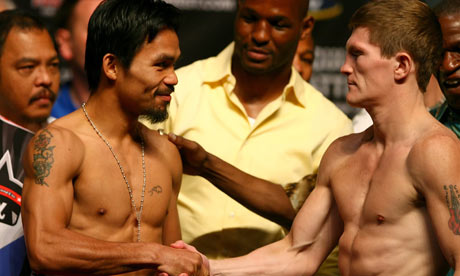 I was on a taxi on the way to NAIA-3 awhile ago when I heard the AM radio commentator – who is anything but a fine example of objective sports journalism – claim that nobody, not even Floyd Mayweather, can stop the Pacman.
Of course it was a rip-off, considering that Pacman defeated Ricky "Hitman" Hatton in two rounds – that's two rounds – of boxing.  So you figure that our honorable and august members of the House of Representatives probably got ripped off by the fight (well, we did), and the honorable and august President of the Republic of the Philippines will probably proclaim this as a "victory for the Filipino people."  It will probably be PR'ed the hell as a "fairytale victory," even.
Fairytale victory, huh?
So apparently our very objective paragon of sports broadcasting said that not even Floyd Merryweather can beat up Pacquiao.  I must have some hearing problems on account of all the heavy metal songs I listen to, but I distinctly remember hearing Merryweather.  Maybe he was referring to Floyd Mayweather, whose mastery of the ring ropes is second to none.
Then again… Merryweather…
Standing at two feet tall and weighing somewhere around 200 fairy pounds, she hails from the fairy-world of medieval Europe, wearing a blue gown with light blue trim… with a standing professional record of one thousand knockouts in the kingdom created by Disneyworld (Disneyworld… Disneyworld…)
The Four-Post Fairy, the Blue Bomber, the Ringmaster Godmother… MERRYWEATHER.
With fairy dust and a bibbidy bobbidy boo, Merryweather knocked Princess Aurora (Briar-Rose, whatever her name is) out cold and put her to sleep for the next… I don't know the exact time frame of Sleeping Beauty.
That sword-wielding Prince Philip dude slays the dragon-version of Maleficent with weapons with names like "The Sword of Truth" (his oddly-shaped penis) and "The Shield of Virtue" (his oversized scrotum infected with elephantiasis).  Yeah, while Prince Philip whooped dragon-ass with those idiotic-sounding weapons, Merryweather knocked out an entire kingdom – that's right, a whole fuckin' kingdom – before the spell is broken.  And she knocked out Princess Aurora, too.
Don't let Merryweather's… rotund… countenance… fool you for one bit.  The woman can float like a butterfly, sting like a bee (she's a fairy, duh).  Say what you will about Pacquiao's talents and ring skills and mastery of the sweet science, but Merryweather can bibbidy bobbidy boo her way out of whatever punches Manny can throw in the ring.  Merryweather's magical acumen (our fine, objective sportscasters have a way of obsessing themselves with that word) is enough to make Tinkerbell look like a pussy… OK, I'll stop there.
Besides, it takes a kiss from your one true love to wake up from the spell of Merry-Fuckin'-Weather.
Just in case you didn't notice, Merryweather, like Manny, is left-handed.  Oh, this will be good.