Cicatrice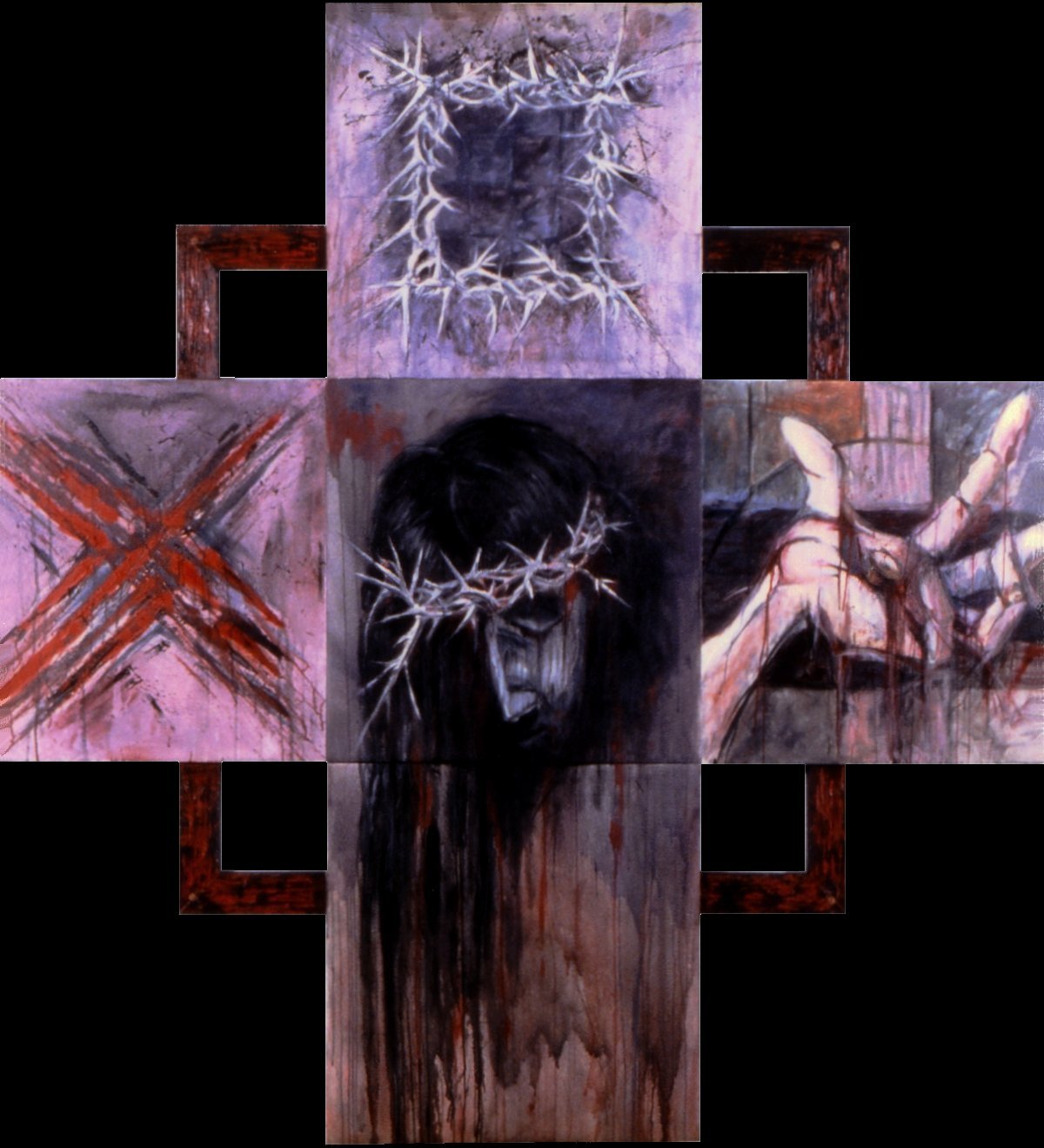 Whose is this horrifying face
This putrid flesh, discolored, flayed,
Fed on by flies, scorched by the Sun?
Whose are this hollow red-filmed eyes
And thorn-spiked head and spear-struck side?
Behold the Man; He is Man's Son.
– David Gascoyne, Ecce Homo
When I was a kid, the priests and nuns at school reminded us that the message of Jesus' death is not what He has gone through to deliver us from sin, but His Resurrection.  I am reminded of the words of a teacher, who says that the sight of Jesus on the cross should make every day Good Friday.  While it didn't make me pious or reflective or anything, it did make me understand – in my childhood – that someone out there made the ultimate sacrifice so that I can hang onto a chance to be saved.
Whether it's pabasa or penitencia, the verses from the canonical Gospels are read and re-read; not the life of Jesus, but His passion and death.  There are those who inch their way to the supreme sacrifice of Jesus, whether it's to fast or to abstain from meat.  Those who take their faith to the extreme reenact the suffering of Jesus, as he carried the cross to Calvary.  Some people even go as far as to have themselves crucified on heavy wooden crosses, seeking repentance and searching for deliverance.
I'm not one for the theological swipe or blaspheming; cuaresma, to me, is a study in torture.  There would have been many ways to kill Jesus, but the people chose to break down and kill the Man's Son in the most repugnant way possible.  The crowning of Jesus with thorns, His scourging at the pillar, and His crucifixion were things that are nothing short of cruel and inhuman.  Perhaps the reason why many of us quietly observe Good Friday is because of the circumstances of the Messiah's death.
Crucifixion is death from exposure; in Jesus' case, He had to deal with the wounds of His scourging, the blood flowing from His gangrenous hands, getting poisoned by the bile fed to Him through a sponge and the spear that strikes His side, and just hanging there like a piece of meat curing from the heat of the afternoon Sun.  Jesus, who preached everlasting life, is the very being who suffers from everlasting death.  We retrace His death, we relive His passion, and realize that no amount of suffering and self-mutilation – and perhaps even replication – will ever compare to the death and suffering that Jesus went through to deliver us from sin.
It's not too often that I go to Church, but there's always that unexplainable feeling – an incoherent anguish of sorts – whenever I see the image of the crucified Jesus. Perhaps because the most telling reminder of Jesus, for many of us, is that man hanging from the cross; not the man who turned water into wine, not the man who turned over the wares of those selling their wares in front of the temple, not the man who fed thousands of people with five loaves of bread and two fish.  That the very same man hanging from the cross is the very same man who taught us to love your neighbor as you would love yourself.  That the very same man who was scourged in the pillar and crucified at Calvary was a man who stands for things we believe in today: justice, fairness, freedom, human rights, benevolence, and yes, even revolution.  Maybe yeah; Jesus is one of those very few, those happy few, people who have actually changed the world.
As I look at Jesus' wounds and reflect on his passions, I wonder if His passion and death always takes precedence and prime importance over something like Easter.  That maybe we identify more with suffering than the message of deliverance.  Maybe we have yet to be saved…
But that's for another day.