A Chinese Wedding Banquet
My cousin's wedding this weekend would be the stuff of a few blog entries for the next few days, but somehow I can't stop thinking about food.
For me, Chinese cooking cannot be separated from Chinese philosophy.  I like to think of the kitchen not as different options, but as different instruments; the only thing constant in cooking and appreciating food is change.  Innovation is as much a part of Chinese cooking as tradition; while there are many dishes that are usually associated with Chinese cooking, the goal is to push the borders, and to find as many ways to cook a dish, while still maintaining the traditions behind that dish.
It is not uncommon for a blogger who's interested in the images of food – or a food blogger, for that matter, to take pictures of food as it is served, and to describe that dish as if the reader was actually tasting it.  The problem is I'm not a very good photographer, and I'm not very good at describing food.  For this weekend's megapost, I'll try to describe and tell a story of a sumptuous, generous meal I had at my cousin's wonderful wedding.
To food, to love, to words… here we go.
The wedding reception was held at the grand ballroom of Century Park Hotel at Malate, Manila.  Since our family is part-Chinese, the theme of the reception revolved around seafood.  As I was snapping photos of food (which probably creeped out some of the guests) and trying to make sense of the flavors and ingredients in the dishes, I felt – and tasted – that theme of innovation and tradition.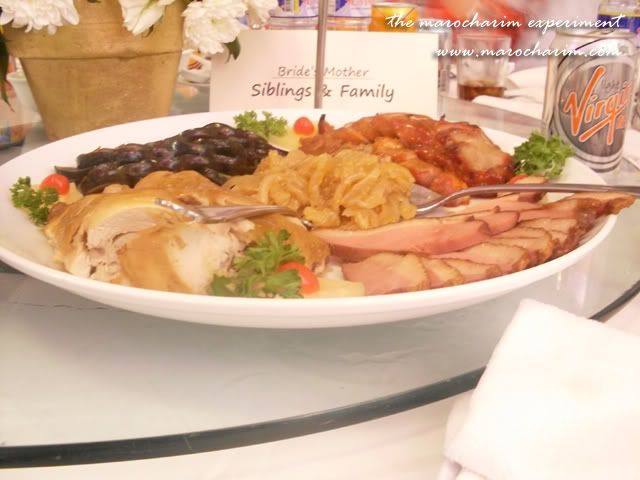 Here is a sampler plate that you would see in almost every Chinese restaurant.  It has slices of steamed chicken, century eggs, char siu (Chinese-style barbecue), Chinese ham, and my favorite part, sea cucumbers.  The dish is a meal in itself, but the flavors are meant to stimulate your appetite for the lot of food served later.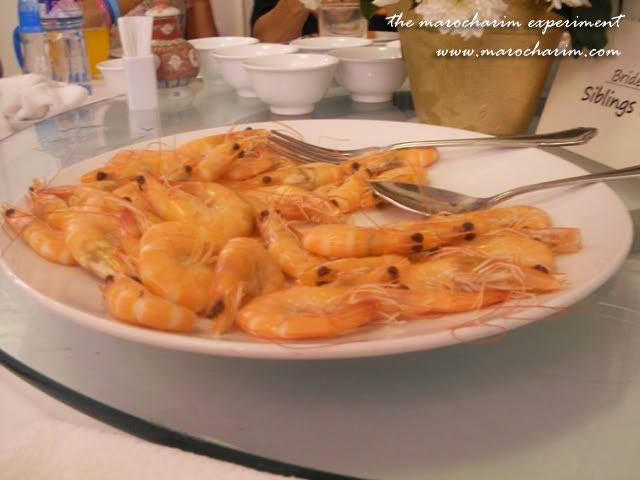 I never got to taste the fried shrimps because I can barely manipulate my fingers in complex movements, but they're larger than the usual ginisang hipon served at many dinner tables.  I'm sure there must be some twist to the dish, but the diners seemed to be enjoying the freshness and texture of the dish.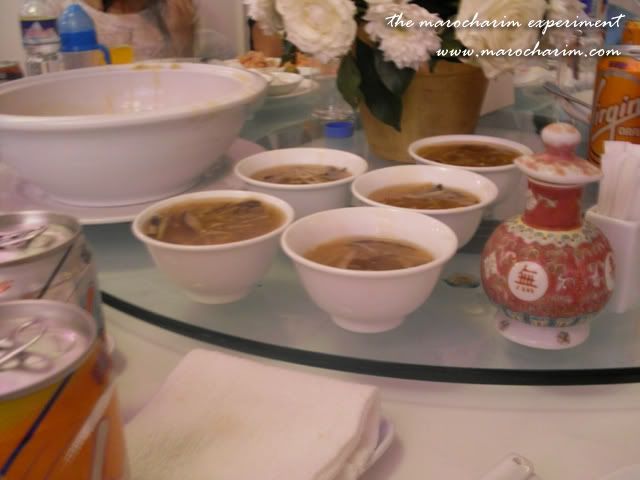 To add to the feeling that either I was in Savory, or that the catering was sponsored by Savory, there was the soup.  It was a thick, hot-sour broth with thinly-sliced bamboo shoots and shiitake mushrooms.  I really liked the addition of what seemed to be young matsutake mushrooms in the broth.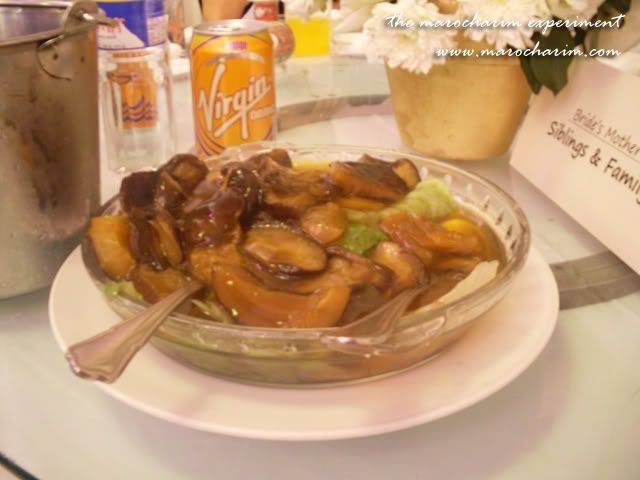 Here's something you don't see everyday: a seafood take on pata tim. The cabbage leaves and the mushrooms and the sauce are still there, but instead of pork leg, sea cucumber (or abalone, I really can't tell) was used to give weight to the dish.  The entreé was also improved with the addition of Chinese white fungus.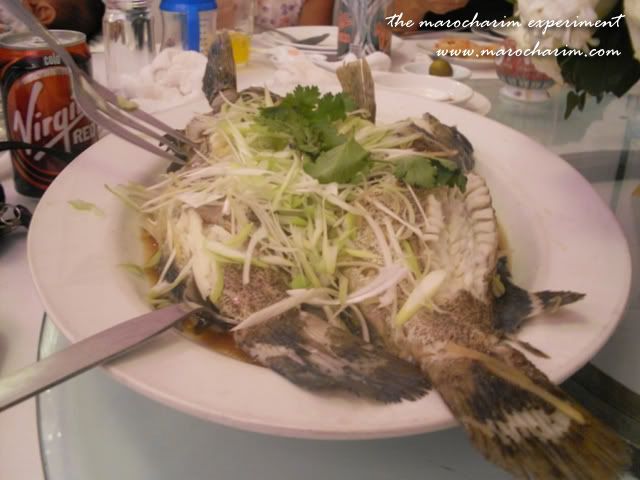 I'm not a big fan of fish and I'm not heavy on steamed stuff, but the steamed lapu-lapu was very good indeed, even if all I had of the fish was half a spoonful.  What makes this dish palatable to me, though, is if you eat the onion leek garnish together with the soy-and-ginger sauce the fish was steamed in.
Hard liquor is a basic food group to me, and I didn't pass up the chance for a booze buzz when the sommelier offered the choice of red wine or whiskey.  I didn't care much for what they had in the way of red wine, but the Handel chorus sang somewhere when they had Johnny Walker Swing.  I usually add a touch of water down my whiskey (no matter how cheap it is or if it is even whiskey at all) to bring out the aroma of the drink.  What I found is that when the whiskey is chased with orange soda, it's not half-bad.  I still prefer drinking my whiskey the way it's meant to be drank.
The savory fruit crêpes were amazing, considering I'm not a big fan of dessert at all.  The crêpes were deep-fried in a savory, almost meaty coating, and the interesting thing was that it was stuffed with a chilled serving of fruit salad.  It was an interesting contrast of flavors, textures, and temperatures.  It didn't go great with the whiskey, though.
If there's anything that went great with the alcohol served was the roasted pigeon.  I couldn't care much for the chips served with it, but the pigeon had a gamey taste, but a delicate texture.  The bird parts were crisp on the outside, but very soft on the inside.  I can't blame diners for even biting into some bone here and there.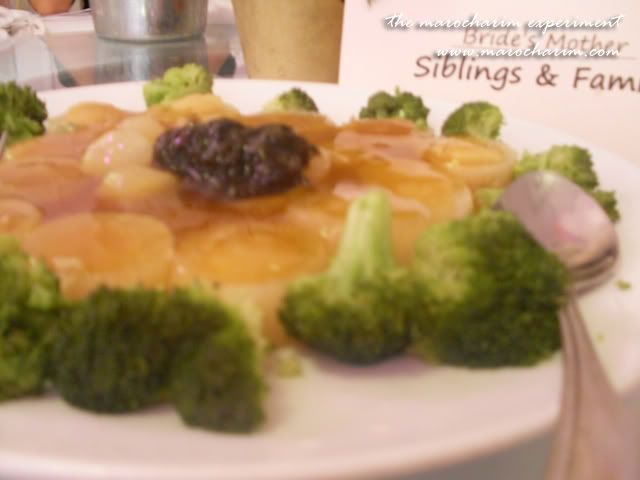 One of the more interesting dishes to me was the stewed radishes stuffed with preserved scallops and a side of broccoli and seaweed.  The kids didn't like it much, but it was a challenging combination in itself; it's an assortment of all flavors except spicy, but you can still pick out the tastes and textures.  Superb execution in this one.
I didn't care much for dessert, but as you can see, these are not dishes you would see in cookbooks, or would instantly associate with a Chinese restaurant or Chinese takeout.  With dishes like these, I'm hardly surprised that Chinese cuisine managed to stay with us for so long, and still taste so good after all these years.