Mall of Asia at 33 Degrees of Heat and Boredom
They call it a "lucid interval;" temporary insanity.  The best I could have done was to just stay home and read a book, write some more stuff, or catch up on much-needed sleep.  Then again, it was too hot to read, to write, or even to sleep.  It was just too hot.  Like Macbeth said, 'tis a dagger of the mind, a false creation, proceeding from a heat-oppressed brain.
A hot Sunday afternoon: 33 degree heat, 33 degrees of boredom.  My brain must have sublimated, my good judgment must have evaporated.  I suppose there's nothing more emo than to go out in temperatures at the high 30s just to go somewhere to take pictures, to make up thoughts… and probably get a Quickly.
At three in the afternoon, I was off to SM Mall of Asia.  If not for a Quickly, for heaven-knows-what.  Like bad photography, mirages, and the disturbed thoughts of a writer with nothing better to do on a hot Sunday afternoon.
My journey into a stream of thought began as I was walking along the neighborhood, wondering about where I'm going to go.  The choices all boil down to malls; Metro Manila, after all, is a complex of air conditioned shopping malls.  In the absence of trees and airy, open spaces, malls have become the new centers of all human activity in the Metropolis.  You don't have to buy anything; you simply have to wander around to get your body cool.  You know what they say about social justice; you must distribute at least one resource fairly to everyone in the city square.  If it's not the free cheese samples at aisle 5 of the supermarket, then it must be cool air.
I had to strike out Ortigas and Cubao off my list, considering how bad the traffic at the northbound lane of EDSA-Guadalupe was.  I may have been driven temporarily insane to go out at 33 degree heat, but I'm still sane enough to hate traffic.  EDSA, to me, has always been 12 lanes of chaos; a concrete leviathan where the social contract is defined by a (stupid) yellow line, and broken white lines.  You can think of EDSA as a microcosm of Philippine society; it either moves so fast to the point that everyone gets away with breaking the law, or it moves so slow that you wonder how and when you'll move forward.
So I decided to go south.  Mall of Asia, here I come.
There's catharsis riding an ordinary bus.  For one, I don't have to put up with more Jason Statham movies (I swear, if I watch Transporter 3 again, it will be too soon).  For two, I can literally feel the wind in my hair (what can I do, I'm vain in at least one thing).  For three, the driver may very probably be psycho enough to send you on a rollercoaster right without speed limits on the Highway to Hell.  The heat was probably enough to make me contemplate a death wish in passing, but the bus driver was quite disciplined.  Death wish caused by heat, fail.
With almost everyone going northbound, I made it to Mall of Asia in about ten minutes… or "It's Gonna Be Me" by N*Sync, "TNT" by AC/DC, and "Julia" by Our Lady Peace.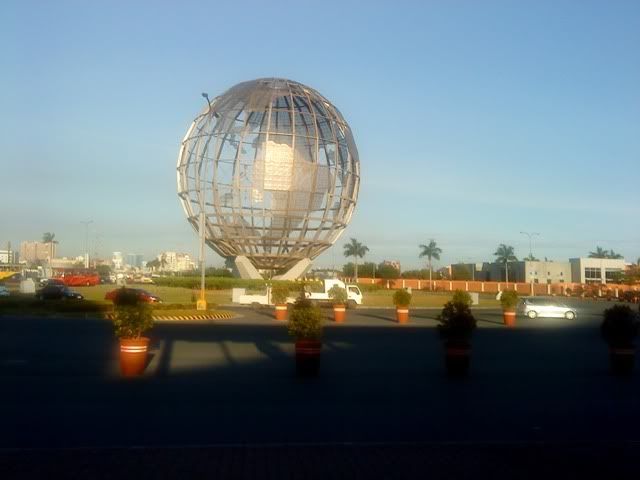 And so, there I was, Mall of Asia.  As I walked past the terminal to take a random picture of the giant globe of MoA, my mind sort of started to go haywire.  Did the globe really tilt 23.5 degrees?  Are the panels made from plastic or capiz shells?  What if, just for awesome extreme entertainment, a couple of motorcycle stuntmen rode round and round the inside of the globe?  I'm sure they do that in Universal Studios.
I made my way to the bay area (taking care not to smoke my way through the mall, although if the sprayers were triggered it would be welcome relief), and I suddenly had an epiphany of my age.  Everyone had that Bubbleboy or Bubblegirl phase.  I suppose there's nothing more fun than being a kid inside an acrylic bubble, waddling your way along a shallow pool.  You just don't do that when you're all grown up.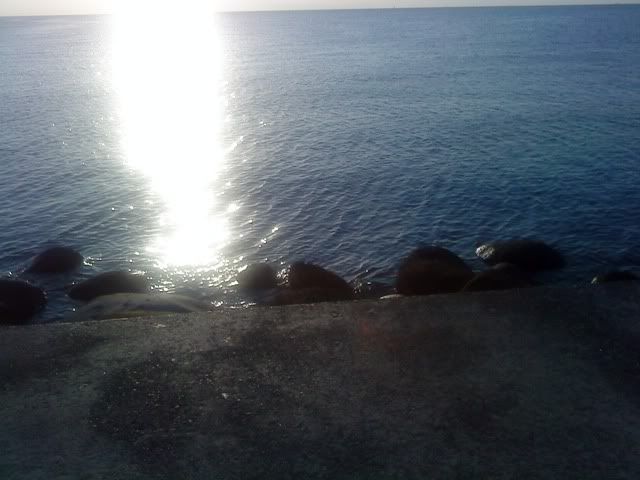 I spent some time by the seawall, and took some time to think things over while I'm here.  It's sort of difficult to appreciate nature, especially if society's marks of "progress" have become situated and defined along the lines of air conditioning.  The mall was crowded, yet very few took time out to sit by the sea, bake a bit, and appreciate the magnificence of the infinite.  Granted that the water was dirty, or that there were much more fun things to do inside the mall, but even in this heat there must be some time to think, to contemplate, to apppreciate what lies outside the boxes that we live and work in every day.
Whatever contemplative thoughts I had left practically evaporated as the Sun started to set.  I had to get a Quickly.  Turns out that this being the bay area, there are more things better than fruit shake late on a Sunday afternoon.
I'm sure it had something to do with malt juice on the stores to my right.  Things didn't turn out so bad after all.
Pictures taken with a SE w760i.  Even with a cellphone camera, I still take bad pictures.