Jason F'n Statham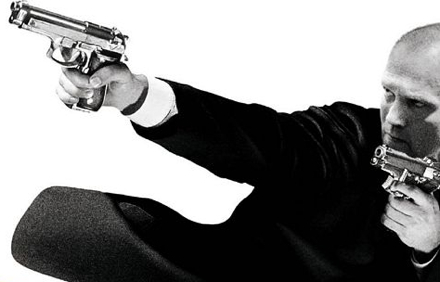 If there's anything I like about commutes, it has to be bus movies.  When it comes to bus movies, Jason F'n Statham is king.
I will now make a mental note to myself to refer to Jason F'n Statham's name with the "F'n" modifier.
I don't know how many times I watched "Transporter 3" in a bus commute, and for the life of me, I don't understand the movie.  Understanding and critical analysis, however, are irrelevant when you're watching action flicks.  You don't go about deconstructing an action movie, like say, "David Balondo ng Tondo," and go about the semiotics of why Ramon Revilla is immune to bullets, and why he uses a bull-whip to beat up drug runners armed with Armalite rifles.  Then, years after the literal ass-whipping of the lawless elements of Isla Puting Bato, Revilla's son, Ramon "Bong" Revilla, Jr., made that smashing, kick-ass, somebody-give-me-a-Jagerbomb-it-was-so-fucking-cool movie known as "Resiklo."
I can't disguise my sarcasm well.  Hell, even that's called into question because I take pains to find out what in the hell happened to Lindsay Custodio.
Anyway, back to Jason F'n Statham.  "Jason Statham:" now that's a macho name you'd expect from an action star suffering from male-pattern baldness, but still happens to have chiseled muscles.  If Don Lafontaine were alive today, he would have given justice to the awesomeness of Jason Statham's name.  Hey, he did it with Arnold Schwarzenegger in the Terminator franchise: there's only one way to pronounce Arnold's surname, and that's with the guttural, I-smoked-cigars-all-my-life voice of the late voice of every cool, dystopian, post-Apocalyptic action movie trailer known to man.
Never mind that "Transporter 3" (EDSA southbound) or that abortion called "Death Race" (EDSA northbound) are senseless movies that celebrate the triumphalism of the oil cartel and defeat environmentalist concepts: the point is that you're watching these on buses.  "Speed" can only be watched properly on the train, besides.  Yet with "Fast and Furious" coming out this year, Jason F'n Statham has to beat Vin Diesel's bald machismo soon.
A friend of mine who happens to have a major crush on Nicholas Cage says that part of the appeal of Jason F'n Statham is that he's balding.  She says that if you have the same ripped body as Jason F'n Statham while sporting male pattern baldness, you exude testosterone.  In terms of balding action stars, Nicholas Cage has nothing on Jason F'n Statham.  Two movies come to mind:
"It Could Happen To You:" Nicholas Cage and Bridget Fonda did not board a cruise ship that exploded in the middle of the trip, with a group of David Koresh loyalists led by Chuck Norris.
"City of Angels:" Nicholas Cage did not realize his humanity by falling into a burning bus rigged with explosives and ended up in a gun battle with Samuel L. Jackson.
I tried debating the point with my friend, though.  Like every debate that involves me and a girl, I almost always end up with a gross-out case in point which happens to be correct, but too extreme and base:
Me: Come on, Nicholas Cage's eyes are wussy.
Friend: Just because he's been in a few drama films doesn't mean he's a wimp.
Me: "National Treasure?"  You freakin' kidding me?
Friend: Nicholas Cage sweats testosterone.
Me: You kiddin' me?  Jason F'n Statham's smegma is testosterone.
(Friend sips her beer and changes topic.)
No wonder people think I'm undersexed.