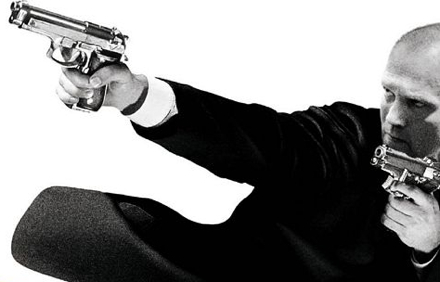 If there's anything I like about commutes, it has to be bus movies.  When it comes to bus movies, Jason F'n Statham is king.
I will now make a mental note to myself to refer to Jason F'n Statham's name with the "F'n" modifier.
I don't know how many times I watched "Transporter 3″ in a bus commute, and for the life of me, I don't understand the movie.  Understanding and critical analysis, however, are irrelevant when you're watching action flicks.  You don't go about deconstructing an action movie, like say, "David Balondo ng Tondo," and go about the semiotics of why Ramon Revilla is immune to bullets, and why he uses a bull-whip to beat up drug runners armed with Armalite rifles.  Then, years after the literal ass-whipping of the lawless elements of Isla Puting Bato, Revilla's son, Ramon "Bong" Revilla, Jr., made that smashing, kick-ass, somebody-give-me-a-Jagerbomb-it-was-so-fucking-cool movie known as "Resiklo."
I can't disguise my sarcasm well.  Hell, even that's called into question because I take pains to find out what in the hell happened to Lindsay Custodio.
Anyway, back to Jason F'n Statham.  "Jason Statham:" now that's a macho name you'd expect from an action star suffering from male-pattern baldness, but still happens to have chiseled muscles.  If Don Lafontaine were alive today, he would have given justice to the awesomeness of Jason Statham's name.  Hey, he did it with Arnold Schwarzenegger in the Terminator franchise: there's only one way to pronounce Arnold's surname, and that's with the guttural, I-smoked-cigars-all-my-life voice of the late voice of every cool, dystopian, post-Apocalyptic action movie trailer known to man.