Ehr-Tee-Gess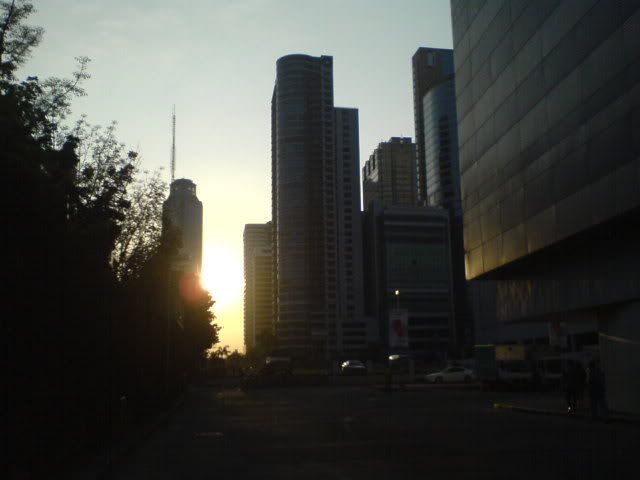 I used to hate Ortigas before, but now I'm finding it the funniest, most ridiculously absurd place in the world.  When it comes to ridiculous absurdities, you can count me in as a fan.  Most people tend to add some semblance of glamor or prestige into their otherwise mundane and pointless roles as cogs in the wheel of a system they have nothing to do with, but got sucked (or suckered) into.
There are at least two ways that I know of to accomplish this much-needed (pardon the term) psychological blowjob:
Understatement: Call yourself a "worker" even if you wear a collared shirt to work, and you don't belong to a union.  For us in the content writing industry, it's to call yourself a "corporate slave."  Understatement has a lot to do with some degenerative personality disease.
Overstatement: Make your job seem glamorous or interesting.  For call center agents, it's calling yourself a "sales representative," "customer service representative," or "technical support representative."  It's to put yourself on the same plane as a politician.
I believe that no other method can bring the ego to a mind-blowing multiple orgasm than calling the place you work something else than it's supposed to be.  Now that I started the sex metaphors, it's like having sex, and by the time you're about to… become one with Atman, so to speak, you groan (men) or moan (women) someone else's name.  There's "Eastwood City:" for all intents and purposes, it's a complex of buildings crowded in some tract of land at Libis, not a "city" per se.  Or Makati, pronounced as "Mah-ka-ry."  And of course there's my Borg Cube: call Ortigas "Ehr-tee-gess."
I've been in "Ehr-tee-gess" for a long time to profess that a lot about it revolves around completely necessary pretentions.  No matter how expensive your cellphone is, no matter how nice your clothes are, and no matter how many coffees at Starbucks you drink, you're bound to eat at Hong Kong Style Noodle, and get the buy-one-take-one deals at Angel's Burger.  I can sometimes do the Vulcan mind-meld with some of the pa-kikay types right behind Saint Francis who, on a good day, would don those big-ass shades, pretend to be Anne Curtis, and discreetly feed themselves with what we aura-interrupting plebians feed ourselves anyway.
Those big-ass shades also come in handy when:
You don't want to be seen riding the MRT (you either don't have a car, or your parents decided to sell or dock your Toyota Vios until such time that gas prices roll back down to P30)
You don't want to be seen passing through SM Megamall B (because you'll be passing through a supermarket, and you'd rather pass by EDSA Shangri-La)
You don't want to be seen smoking Winston Lights (because you don't know that you can get the more sosy cigarettes at a cheaper price but you only know 7-Eleven and Mini Stop)
You don't want to be seen carrying a brown envelope to apply at some random BPO (because you'd rather be seen working at more cushy office jobs at "Mah-ka-ry")
You don't want to be seen working from any other place outside San Miguel Corporation (none of us are good enough for them anyway)
You don't want to be seen walking or crammed into an FX (refer to first bullet point)
You don't want to be seen, period.
I know it's not funny.  So?