X-List: Horny Music
Would I dignify a blog controversy?  Nah…
There are songs to make love with, and then there are songs that just make you feel… well, horny.
Music has a lot to do with libido.  Carlos Santana's "Europa," for example, is the kind of piped music you'd expect in a gay bar (not that I know anything about gay bars).  Anyone who watched porn would have heard of those deep, rhythmic bass sequences followed by the saxophone solos from a guy who plays Kenny G music through a Kazoo.  Speaking of Kenny G, I don't find it horny at all: "Silhouette" and "Forever in Love" are music better suited for idle days at 7-Eleven, provincial buses, and Japanese movie channels on intermission.  And Marvin Gaye's "Let's Get It On" does not reek of horniness: it reeks of sex.
Anyway, here's this week's X-List:
*     *     *
10.  Boyz II Men, "I'll Make Love To You"
A lot about what the comedian Pablo Francisco calls "brother music" revolves around the musical celebration of sex.  It all depends on how sexy you can get it.  Like pouring the wine, lighting the fire, throwing your clothes on the floor, so I'll take my clothes off too.
The 1990s was a time ripe – and rife – with Boyz II Men clones (anyone can remember All-4-One and "I Can Love You Like That"), but nothing beats the original when it comes to overall… horniness.  "I'll Make Love To You," like many of the group's non-wholesome songs (like "Uhh Ahh" and "Four Seasons of Loneliness…" I just find it wrong), is about good old-fashioned fem-dom bitchin'.  It's so romantic, and at the same time so… BDSM.
My favorite part: "Baby tonight is your night / And I will do you right / Just make a wish on your night / Anything that you ask / I will give you the love of your life / Your life / Your life…"
9.  Keith Sweat, "Twisted"
It may sound so racist, but when it comes to horny jams, you simply can't beat a black dude.  Keith Sweat's "Twisted" has horny written all over it.  For one, I think that you can't get any hornier with a name like "Keith Sweat;" I don't care if your Keith Urban, Keith Richards, or Toby Keith.
To be honest, I don't really know what "Twisted" is all about.  On the one hand, it sounds like a dirty love song about making up and making love.  On the other hand, you get reminded of a game of Naked Twister.  "Twisted" also kind of makes you suffer from a bit of bad LSS, if only to sing the song as if you have a sinus problem.  Well, it does sound like it.
My favorite part (except for Keith Sweat doing the second voice things): "You got me twisted, thinkin' 'bout the way that things used to be / When it was you and me girl, I was so free / See you had my heart from the start like Cupid / And I was just downright foolish and stupid."  Reprised later on by the Philippines' own Salbakuta.
8.  Meat Loaf, "I Would Do Anything For Love"
Like many of you, I don't understand this song one bit.  Some folks find this song romantic, some people find this song alluring, some people find the late Selena sexy, and heck some people even find Meat Loaf sexy.  I guess it doesn't hurt to ask… you would do anything for love, but what, pray tell, is "that?"
The reason why this song found a spot at the X-List of horny music is that there's something about the mad, dramatic rush of piano keys.  It's perfect for karaoke, although there's always that philosophical question of what's the "that" in the song.  Is this one of those Brokeback Mountain things?
My favorite part: "Some days I pray for silence, and some days I pray for soul / Some days I just pray to the god of sex and drums and rock 'n roll / Some nights I lose the feeling, and some nights I lose control / Some nights I just lose it all when I watch you dance and the thunder rolls!"  Give it to 'em, Meat Loaf!
7.  Sisqo, "The Thong Song"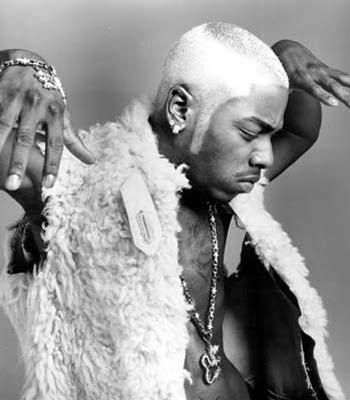 No list of horny musical tracks would be complete without a mention of the man called Sisqo.  We all laughed watching or even singing "The Thong Song," especially if some white dude sings it.  Or we "sanitize" the wrong-sounding lyrics and (in the tradition of a classmate of mine back in high school) change it to "Let me sing that song… that song, so-so-song, song song."
I don't know what happened to Sisqo, and to be honest, I could care less.  Not that "The Thong Song" ever drove me horny (it drove me insane with laughter, I can tell you that), but it was nothing more than a shameless musical presentation of butts and thighs and a man with a really bad panty fetish.  Well, don't we all?
My favorite part (save for Sisqo's hair): "She had dumps like a truck / Truck, truck / Thighs like what / What, what / Baby move your butt, Butt, butt / I think i'll sing it again…"  Uhh, no thanks.
6.  Peabo Bryson and Roberta Flack, "Tonight I Celebrate My Love"
If you're a 1990s kid, you know that Peabo Bryson was the voice behind Disney soundtracks like "Beauty and the Beast" and "A Whole New World."  How the man could be able to sing something so dirty, I don't know.  My parents used to sing this song to each other, and while it sounds romantic, I can't help but hurl.
While the song is unmistakably about sex oriented towards everlasting love, the horniness comes a posteriori, so to speak.  On many piano instrumental collections, you're bound to listen to at least one iteration of this theme.  What I remember most is when this was used in Saturday Night Live in a skit featuring (I think) Chris Kattan and Will Ferrell.
My favorite part: "Tonight, I celebrate my love for you / And that midnight sun / Is gonna come shining through / Tonight, there'll be no distance between us / What I want most to do / Is to get close to you / Tonight…"  Emphasis on "There'll be no distance between us" part.
5.  The Spice Girls, "2 Become 1"
Horny; definition: Spice Girls.  If there's any song made for mental porn, it definitely has to be "2 Become 1," when you need some love like you never been in love before.  As much as any man will profess to hate Baby Spice, Sporty Spice, Posh Spice, Scary Spice, and Ginger Spice… well, we all know the many hits of Girl Power.
I should know: Spice Girls are a karaoke specialty of mine.  And I always had a crush on Victoria Beckham then.  Not now.  Video of "2 Become 1," anyone?  The brain-dead-ness of Spice Girls songs is bordering on obvious, so much so that "2 Become 1" is a 100% horny jam.  Although I have to say that as much as I "hate" the Spice Girls, this terrible headache of a song is not without its merits.
Which brings me to my favorite part: "Come on get a little bit wiser baby / Put it on, put it on / 'Coz tonight / Is the night / When 2 become 1" may be about condoms.  You go girl.
4.  Whitney Houston, "I Will Always Love You"
You have to wait for that heavy drum cue, that two-second pause, and then scream, "AND I… WILL ALWAYS LOVE YOU!" to get the full effect of this epitome of wife-beating, cocaine abuse, and all around horniness.
The theme song of The Bodyguard may be relegated to the drunken parts of Friday karaoke sessions, but there's something about the high-pitched dramatic falsetto that either has to come from the ovaries.  In the case of men singing this song, you just have to draw your pitch from the testicles.  It's a sad break-up song, but hey, it can get horny.  Sexual Chocolate!
My favorite part: I'd be lying if I said I didn't like the high-pitched Falsetto of Death that makes you either cover your ears in agony, or strip naked.
3.  Paula Cole, "I Don't Wanna Wait"
Nobody got horny watching Dawson's Creek back in the day.  No, wait, nobody I know will confess to watching it.  I know I did; heck, I even watched Tabing Ilog. I think that it's not Katie Holmes that was the absolute product of "Dosong Kriks," but was that really horny-sounding opening track that, well, none of us want to remember.
In these days of random shrieks by Leona Lewis, Paula Cole did the exact opposite: avoid breathing all together.  I don't know what's horny about this song, but I've been told that some of my friends make love to this song.  So after some random research on sex, I kind of get it.  Granted that it is romantic, but there's something about the vocalization (and less-than-satisfactory grammar) that makes it horny.
My favorite part: "I don't want to wait / For our lives to be over I want to know right now / Will it be yes or will it be / Sorry."  I kind of sounds like an indecent proposal more than a tragic love.
2.  Creed, "My Sacrifice"
The interpretation of a song has a lot to do with personal taste.  It's like saying that Lifehouse is emo because of one song (well, they are).  "My Sacrifice" by Creed is one of them; you may think that it's religious, you may suppose that it's a song about sacrifices.  I think that it's a song about masturbating.
I'm not saying this on the basis of lyrics; I hate semiotics.  I'm saying this on the basis of the voice and tooth-clenched singing of Scott Stapp.  You think about the onomatopoeic, animalistic grunting of a man stroking the staff of life, and you suppose that Scott Stapp's singing is akin to that.  The lyrical kabastusan comes later.
Since I brought that up, my favorite part: "Hello my friend we meet again / It's been a while, where should we begin / Feels like forever…"  It takes a perverted imagination, but yes, it can drive you into horniness when you just wanna say hello again.
1.  Ricky Martin, "Maria"
I think it makes sense: Ricky Martin = horny.  I think it has a lot to do with the gyrating, the use of Spanish, or that you just want to scream "Heppa!" at the mere mention of his signature horny hit, "Maria."
I don't understand Spanish, and to be honest, I don't know what "Maria" is all about.  But the "Heppa!" ad lib has to take the cake; it's either a demand for a doctor because of a hepatitis-caused seizure, or that you're just mad about the idea that Ricky Martin gets all the babes even if there's ongoing speculation – ten years running – that the guy is gay.  You can only imagine how to attract chicks with this song because you had one too many shots of tequila or Goldschlager at some swanky club somewhere in Makati or Malate.
My favorite part: well, it definitely has to be "Heppa!"
*     *     *
So you see, there are a lot more important things to talk about than blog controversies.