X-List: Hollywood's Most Beautiful
While I do read the occasional back-issue of FHM, I am not exactly into it.  If anything, women from classic Hollywood films appeal to me more than a Katrina Halili or an Angel Locsin.  While I do find myself crushing on some of the more current female celebrities, I look up to the women of classic films as stars.  It's the kind of admiration that makes me wish I was there on film's golden age.
Many of my friends say that I am extremely difficult to please.  Suffice to say, I am: I have to look at a girl I crush on and see some sort of classic Hollywood feature in her before I really fall.  I guess that explains it.
Everyone will have their own favorite celebrities… here are ten of mine.  Enjoy.
*     *     *
Marlene Dietrich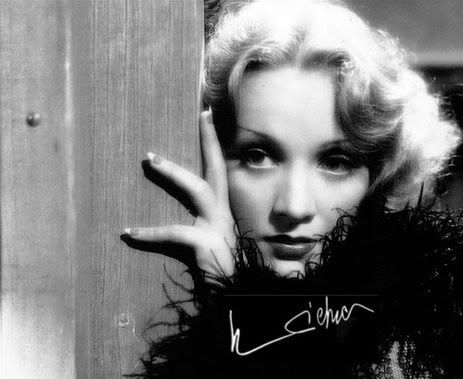 Marlene Dietrich is the classic Hollywood femme fatale.  In her Hollywood career, Marlene has always been considered an "outsider;" her foreign looks added more mystique to her image.  Marlene is, was, and forever will be a Hollywood legend: her presence in films like Morocco and Shanghai Express are most memorable.  If anything, what I really admire about Marlene is that glance – that look – that made her such an iconic image in popular culture, from The Beatles' Sgt. Pepper album to Madonna.
*     *     *
Zsa Zsa Gabor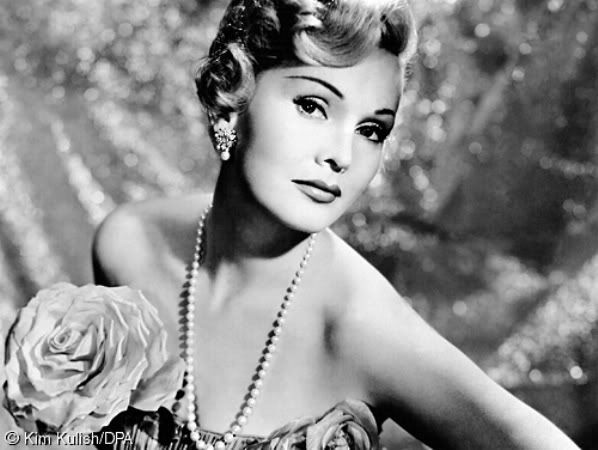 In the history of Hollywood intrigue, if you get married nine times, get divorced seven times, have one annulled marriage and are currently married to a rather strange guy, you must be a real legend.  Zsa Zsa Gabor is one of those legends.  There's just something about old portraits of Zsa Zsa that speaks to why she really is that famous: those arching eyebrows, those high cheekbones, that socialite grace.  In this day and age of kikays who go clubbing on a Saturday night, they can always learn a thing or two from Zsa Zsa.
*     *     *
Rita Hayworth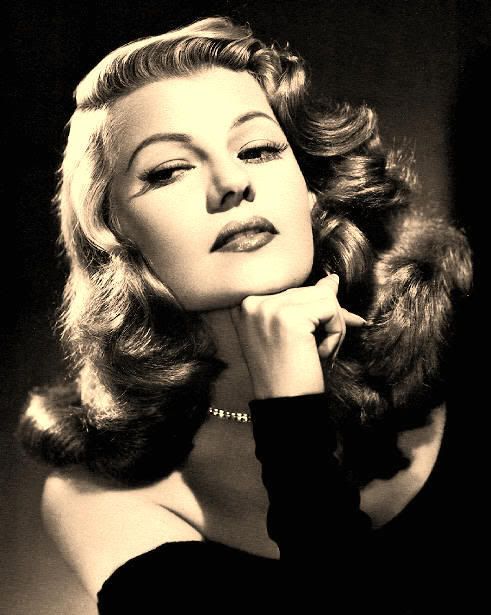 I think that no other actress can wear the slinky red dress better than "The Love Goddess" herself, Rita Hayworth.  Rita can do it all: she can dance, she can act, she can sing, and she's one of the sexiest sex goddesses of classic cinema.  Her enduring grace and passionate performances are the stuff of legend.  Who can forget Rita in Gilda, where that one glove she removed became one of the sultriest and most electrifying things that came off the silver screen?  I wouldn't mind having a poster of Rita Hayworth a'la The Shawshank Redemption, although there would be more reasons for me to stay in prison than to tunnel out.
*     *     *
Marilyn Monroe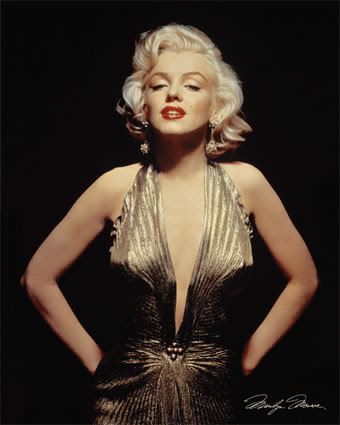 There's just something about Marilyn.  Far from being the stereotypical blonde bombshell, Marilyn's tragic death only served to highlight her remarkable life.  That skirt-blowing scene in The Seven Year Itch is something to remember; so is her song "Diamonds are a Girl's Best Friend."  To be honest, the only reason why I read the plays of Arthur Miller is because of Norma Jean.  And there's just something about how you say that name – "Marilyn Monroe" – that still reminds you of how much a superstar she is today as she was back then.  Then again, everything about Marilyn will always be a mystery… that's why she'll always be a star, a legend, and an icon of the silver screen.
*     *     *
Lauren Bacall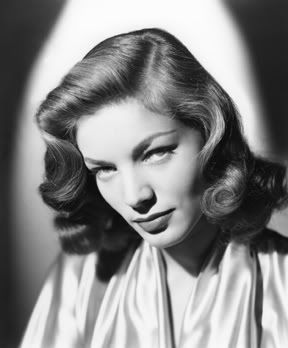 Ah, Lauren Bacall.  That penetrating gaze, that voice, those smart remarks.  In these days of "dumb bimbos" and all-out stupidity in weekend showbiz shows, our local celebrities can – and should – learn a thing or two from Lauren.  "Looking at yourself in a mirror isn't exactly a study of life," she says, and it still holds true today.  The many things she has to say about her ex-husband Frank Sinatra are stuff that should right now be on Friendster shoutouts.  A journalist once called Lauren: "Slinky as a lynx, hot as pepper, cool as rain, dry as smoke."  Suffice to say, that's a good way to describe Lauren Bacall.  Among other things, she is truly a legend of the silver screen.
*     *     *
Sophia Loren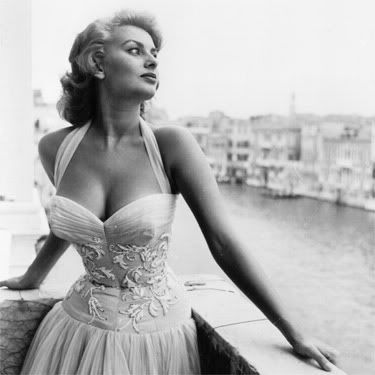 "Everything you see," said Sophia Loren once, "I owe to spaghetti."  There must be more than spaghetti that explains why Sophia's legs go on forever.  Whether or not she had an affair with Cary Grant is something we may never know, but if they ever did, Cary must be one lucky dog.  What exactly is in Sophia Loren, I do not know.  Millions of men would have had fantasies and dreams of Sophia Loren.  Even I did; to be perfectly honest, I fall ever-so-often for girls who have the eyes of Sophia.  Not too many girls could have the kind of figure Sophia Loren has, even at 73.
Edit: Photo © Archivio Cameraphoto Epoche srl / www.starsinvenice.com.  Original source at http://www.flickr.com/photos/view-finder/1165633328/in/set-72157601532477672
*     *     *
Greta Garbo
In this day and age of Paris Hilton's, Britney Spears's, and Lindsay Lohan's, few celebrities will ever have that defining mystique that becomes Hollywood glamour at its finest.  Such is Greta Garbo.  She was intensely private; she didn't sign autographs, she didn't give interviews, she didn't divulge much of her personal affairs.  Even in her silent films, her introverted disposition gave her a mystery that is the stuff of Hollywood legend.  As a star of silent films, Greta let her actions do all the talking.  Hey, nobody's complaining.  When you are an actress the caliber of Greta Garbo, you don't need publicity stunts.  If anything, Greta is the ideal actress.
*     *     *
Ingrid Bergman
My favorite classic movie – period – is Casablanca.  Not only because of that painful heartbreaking story, but because of Ingrid Bergman.  While gin joints and piano bars are a thing of the past these days, Ingrid Bergman forever remains to be one of the best actresses of classic film.  There's something about Ingrid: her voice, her presence on camera, her many award-winning performances, her timeless beauty.  Or that song she told Sam to play again is a good metaphor.  As time goes by, she is that legendary actress that few will ever match, much less surpass.  Then again, they'll always have Paris… and we'll always have Ingrid.
*     *    *
Grace Kelly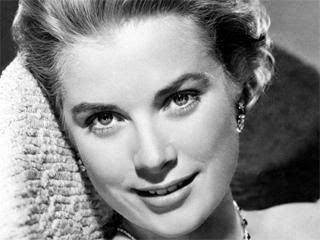 No other actress possesses the kind of beauty and grace of the one and only Grace Kelly, Princess of Monaco.  Films like Dial M for Murder and On the Waterfront showcase her talents, and that statuesque, graceful, royal figure she has.  Not to mention that smile… how many times have I tried – and failed – to hold up on my stoic, unresponsive usual expression whenever I saw Grace smile on those pictures.  And those eyes… royal, yet at the same time ever-so-charming.  How many actors in Hollywood have fallen in love with Grace Kelly, I do not know.  One thing is certain, though: they had all a good reason to fall in love with her.
*     *     *
Audrey Hepburn
Breakfast at Tiffany's is one of my favorite classic movies, and Audrey Hepburn is one of my favorite actresses of all time.  There's something about Audrey and that little black Givenchy dress.  Audrey Hepburn set standards for fashion that to this very day are still emulated, repeated, but never duplicated.  Cuteness?  Timeless beauty?  Definitely understatements, for one of the greatest actresses ever on the silver screen.  Audrey was also a great humanitarian, which set the standard for almost every Angelina Jolie and KC Concepcion of today.  Yet it is her memorable performances – not just in Breakfast, but also in My Fair Lady and of course, Sabrina – that makes Audrey stand out as one of the greatest legends and most beautiful faces of cinema.  Besides, no one else can fit into that little black dress like Audrey.
 *     *     *
So there you have it.  There are definitely a lot more beautiful faces and potential timeless beauties in cinema today, but I think it would be hard to contest their beauty and grace.  I guess Lauren Bacall said it best:
I think your whole life shows in your face and you should be proud of that.
So true.  So very true.
*     *     *
Credits
Marlene Dietrich's image from (http://www.meaus.com/94-marlene-dietrich-poem.htm)
Zsa Zsa Gabor's image from (http://www.garboforever.com/Garbos_Lovers-Friends-08.htm)
Rita Hayworth's image from (http://www.divasthesite.com/Acting_Divas/Rita_Hayworth.htm)
Marilyn Monroe's image from (http://www.nilacharal.com/enter/celeb/MarilynMonroe.asp)
Lauren Bacall's image from (http://www.physicsforums.com/showthread.php?p=1479574)
Sophia Loren's image from (http://www.flickr.com/photos/view-finder/1165633328/in/set-72157601532477672/)
Greta Garbo's image from (http://pediafallen.blogspot.com/2008/03/greta-garbo.html)
Ingrid Bergman's image from (http://www.ew.com/ew/gallery/0,,20041669_20041673_20152905_4,00.html)
Grace Kelly's image from (http://www.biography.com/dead_famous/dead_episode_guide.jsp?episode=150123)
Audrey Hepburn's image from (http://blog.pricegrabber.com/chicshopper/2007/11/27/film-fashion-breakfast-at-tiffanys/)