"I Don't Want To Be Forgotten"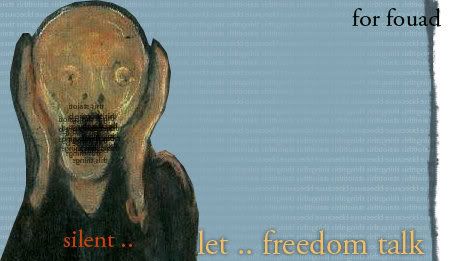 "I don't want to be forgotten in jail."

– Fouad Ahmed al-Fahran, the "Dean of Saudi Bloggers"  
   While most bloggers I know would write today about how their day went or some unique food find, I would like to take a moment to write about a fellow blogger.  A blogger who, like me, won't shut up.  The only difference is that I write from a place where I still enjoy (to some degree) the right to create and disseminate information on whatever I feel like passing off responsibly as such.  He, on the other hand, worked for that same right to be enjoyed in his own country… and got imprisoned for it.  And one day, we who blog in the Philippines face the very close possibility of suffering the same fate: of being arrested.
   When I first came to chance upon Fouad al-Fahran's blog not too long ago, I couldn't read, much less understand, a single thing.  Fouad's blog is written in Arabic, a language I do not know.  I couldn't understand what's written in the national flag of Saudi Arabia, much less make it for United Nations' Day when I was a kid.
   Had I only known.  Fouad is the most popular blogger in Saudi Arabia, but not because he writes about the "usual topics."  Fouad writes about the policies of the Kingdom: not only is he a vocal critic, but an activist and advocate of civil rights.  Fouad, unlike most bloggers, writes under his real name.
   Fouad al-Fahran, on December 11, 2007, became the first blogger in Saudi Arabia to be arrested for blogging.  Nobody in the Philippine press will report on it, and nobody in the Saudi press reported on it.  The bulk of what you and I will know about Fouad will be from the one thing he got arrested for: the medium of the blog.
   You might ask yourself: what does Marocharim – a blogger from the Philippines – care for the arrest of Fouad, who blogs from Saudi Arabia?
   Fouad's arrest gets me thinking: why in the heck would you arrest a blogger?  Nowadays, activists and militants here in the country have been talking a lot about "press repression," that blogging does not represent at all a force for social change.  No Filipino blogger has been arrested: maybe because the bulk of us are personal bloggers who write about how our day went.  There are political bloggers out there – far better ones than I am whenever I feel like writing about politics – and aren't even touched by the government.  While we enjoy our freedoms now, Fouad's arrest is something that I see as a precedent: that this government will, in the near future, arrest a blogger.
   Online activism here – the Parliament of the Web – will always take a back seat to the Parliament of the Streets.  We who level our sharpest critiques on the government – and society in general – online won't be water-cannoned or truncheoned.  It's not "cowardice:" rather, we recognize the possibilities offered by the Web to propagate our own messages for change and reform.  Yet for every front-liner in a rally who has the close possibility of being wounded in a scuffle, we bloggers face the close possibility of being arrested.
   And yet the possible arrest of a Filipino blogger is further dimmed by the truth of it all: there is no law in the Philippines (that I know of) that protects a blogger, that gives him or her the same rights enjoyed by a journalist, a card-carrying member of the National Union of Journalists of the Philippines (NUJP).  One day, someone out there will rise up and write something in his or her blog that will earn the ire of the government.  That person will be yanked out of his or her rented terminal in some random computer shop, get handcuffed, and will be the first victim – perhaps even casualty – of "blogging repression."
   From almost 5,000 miles away, I demand the freedom of Fouad Ahmed al-Fahran.
   My call-to-arms in demanding Fouad al-Fahran's freedom is a call-to-arms to all bloggers to recognize the power of the Web as a catalyst for social change.  We should not forget Fouad al-Fahran, as much as we should not forget the implicit responsibility of calling out the mistakes and errors of Filipino society.  Write about him.  Pray for him.  Spare your daily dose of whatever happened to you today, and reflect on his slogan: "Searching for freedom, dignity, justice, equality, Shura and all the remaining Islamic values which are missing."
   If anything, I urge all of you who read this to not forget Fouad Ahmed al-Fahran.
*     *     * 
For more on Fouad al-Fahran, click here.